New to CBD? Learn about the ways to use CBD, products available, spectrums, and dosing to decide what's right for you.
As we learned in our How Does CBD Work page, when we introduce CBD into our body (either via tincture, softgel, gummy, topical or other method), it can do some very impactful things.
Medical and scientific communities are currently studying the benefits but initial findings suggest that CBD may help promote better sleep, manage symptoms of stress, regulate inflammation and much more.
CBD does all of these wonderful things by providing your body's endocannabinoid system with a productivity boost. Your endocannabinoid system is in charge of maintaining balance across all of your body's internal functions — from sleeping to inflammation, motor coordination to memory processing, appetite control to pain modulation and beyond.
What's more, CBD is a molecule that hits a lot of therapeutic targets without the risk of intoxication, overdose, dizziness, or paranoia. While more research is pending, existing results surrounding cannabidiol point to something pretty remarkable.
DIFFERENT WAYS TO USE CBD
Now that you understand how CBD works, you might be wondering what CBD product is right for you? With so many options available, the answer lies in your own personal preference. But here are some of the most popular CBD delivery methods and how you might use them.
Which CBD Product is right for you?
TAKE OUR QUIZ
Need help deciding which product is right for you? Check out our product guide to find a CBD product to fit your needs,
Take a look at our product guide to find the perfect product to fit your needs!
Understanding the Spectrums
Choosing your preferred CBD delivery method is only part of the process. When you check the labels of CBD products, you'll notice that they contain one of three types of CBD — full spectrum, broad spectrum or isolate. The difference between these three comes down to the chemical compounds included in your CBD product:

If passing a drug test is a top priority for you, CBD isolate is your safest bet. For whole plant benefits, including the entourage effect, full spectrum CBD might be for you. Perhaps the most popular option is broad spectrum CBD, which still allows for a THC-free form of the entourage effect to take place.

Full spectrum CBD: Full spectrum CBD products contain all of the cannabinoids, terpenes and flavonoids from the hemp plant, including trace amounts of THC

Broad spectrum CBD: Broad spectrum CBD products contain all of the cannabinoids, terpenes and flavonoids from the hemp plant, but removing the THC

CBD isolate: CBD isolate products include only the CBD molecules from the hemp plant. All other cannabinoids and terpenes and THC have been removed, so you're getting pure CBD
GET MORE ANSWERS TO YOUR QUESTIONS IN THESE HELPFUL ARTICLES
Proper CBD Dosing
Finding your ideal CBD dose can be tricky because there are countless factors that might alter your ideal CBD dose. We all have different bodies, needs, and tolerances for CBD, and with so many variables at play, there's no standard dose.
Add to that the fact that different delivery methods have different onset times, so that you could feel the beneficial effects several minutes after applying topical CBD, but it could take closer to an hour to feel the beneficial effects of a CBD capsule. All that being said, the best rule of thumb is to start slow & low and increase dosage from there.
Best practice for finding your ideal dose of CBD is consistency. It is best to take CBD consistently over weeks and months as opposed to using it as needed. This is why we recommend adding CBD to your wellness routine in much the same way you would include a multivitamin in your regimen. In that sense, CBD truly is a preventative medicine as opposed to something like an aspirin that you would take only if you felt a headache, for example.
Once you've developed a consistent routine with your CBD intake, you'll have an easier time adjusting your dosage based on your needs.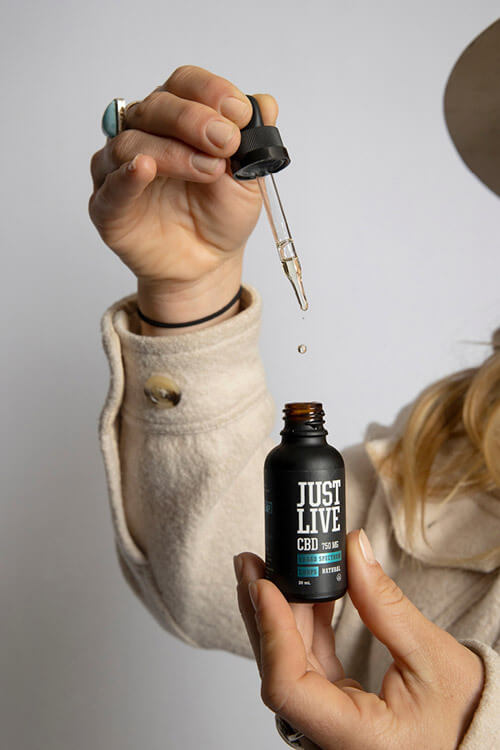 At Just Live, many of our founding athletes are subject to drug tests by a governing body in their respective sports, so none of our products contain THC. We offer products containing pure CBD isolate, as well as our line of broad spectrum CBD products. Drug tests like the ones our athletes are subject to don't search for CBD; instead, they're searching for metabolites that cause intoxication, like THC.
Even in broad spectrum CBD products where the THC has been removed, there is a chance for false positives on drug tests, as some cannabinoids can show up on drug tests (mostly urine screening tests) and 'look' like THC because they are a similar molecule. If passing a drug test is a top priority for you,
CBD ISOLATE IS YOUR SAFEST BET.

I'VE BEEN REALLY ENJOYING THE LITTLE BOOST I GET FROM TAKING THESE !
DARRIUS H.

FANTASTIC!! I HAVE USED SEVERAL DIFFERENT BRANDS AND JUST LIVE IS THE MOST EFFECTIVE AND THE VITAMIN C IS A GREAT ADD!
MTB B.

KEEPS ME RIGHT WHERE I NEED TO BE. FEEL GOOD EVERY DAY. HONESTLY I LOOK FORWARD TO TAKING THESE EVER MORNING!!
BRYAN H.